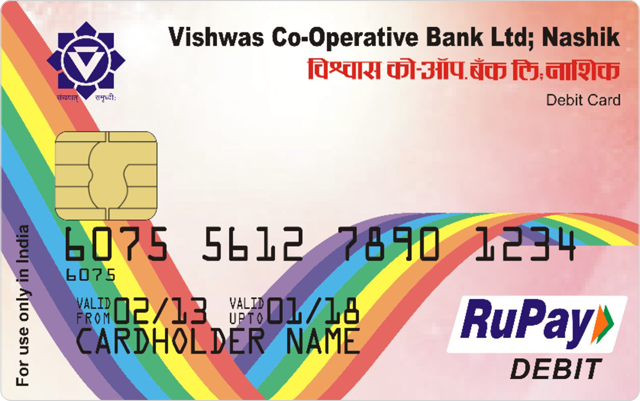 FRONT
1. Debit Card Number – This is a 16 digit card number printed in your card. Please quote this number in all correspondence/ communication with the bank.
2. Card Holder's Name – The card is provided to you for your personal use, please ensure that the Name & other information is properly printed on the card.
3. Validity – The card is valid up to the last day of the month printed on the card.
4. RuPay Logo – Any Merchant Establishment and ATM displaying RuPay Logo would accept your Debit Card in India.
BACK
1. Magnetic Stripe – The back side of your card has a magnetic stripe, which should not be exposed to sunlight, electronic devices. Your Vishwas Co-op. Bank Ltd. account information is stored in the magnetic stripe. Do not scratch or bend your card.
2. Signature panel – Sign on the signature panel immediately after getting card by non-erasable ball pen (preferably black ink).
3. Card Verification Data (CVD2) – The CVD2 number on your debit card is a 3 digit number. This number helps you to perform e-commerce transactions.